Well Pump Installation & Repair in Southeastern Wisconsin
If you have a well, you may be familiar with water pressure problems arising when your well pump performance fails. Your well pump is responsible for pumping water up from the well and into your house. While there may be several reasons your house stops receiving water from its well, the most common reasons are electrical, tank related, or sometimes the well pump itself fails.
Muskego Pump and Plumbing Wisconsin plumbing professionals are trained to determine the cause and possible fixes for your home's lack of water. If your well pump fails, Muskego Pump and Plumbing carries a variety of well pumps for you to choose from. Our three most popular types of well pumps include:
Submersible Well Pumps
Submersible pumps are a great replacement to an outdated, old well. It's important to get a submersible pump with quality construction for long-term use. We carry the most durable and functional submersible pumps and water well pumps on the market.
Precision engineered stainless steel 4" submersible well pumps deliver dependable performance and efficiency in all applications. Built to deliver long-term, trouble-free service, these submersible well pumps feature FDA compliant engineered composite and stainless steel components.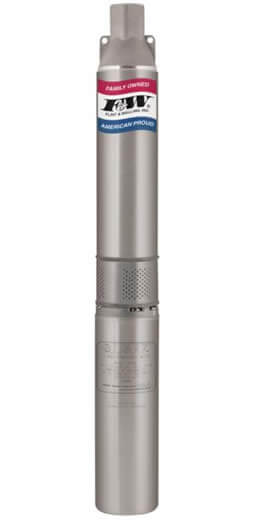 ---
Constant Pressure Well Systems
Those with conventional water wells are probably familiar with the poor water pressure occurring when you have an increased need for water. Many times the water supply will greatly decrease when trying to run dishwashers, sprinklers, showers, and faucets, all at once. The simple solution is to install a Constant Pressure System.
Constant water pressure means you get the water pressure when you need it. As your water consumption increases, pump performance automatically adjusts to meet your needs. The user - friendly control unit indicates how the pump is performing and warns you of any faults. With a SmartFlow System, water pressure is maintained even if your family is showering, washing the car and watering the lawn at the same time. All of your water supply needs will be fulfilled with a constant pressure pump!
Jet Pump Wells
Jet pumps are one of our most popular residential plumbing services. This pump system works by pushing water upwards through a narrow jet in front of the impeller. Jet pumps provide best-in-class performance for shallow wells up to 25' deep. Jet pumps are designed for the professional contractor with heavy-duty cast iron construction, Noryl internals, A. O. Smith 2-compartment motors and Square-D pressure switches for years of extended service. Jet pumps are usually available in 1/2 and 3/4 HP models.
Contact the well pump professionals of Muskego Pump and Plumbing today for help with the purchase or installation of your new well pump!
Well Pumps for Sale and Service
Muskego Pump and Plumbing provides a wide variety of pumping services for Southeastern Wisconsin ranging from minor well pump repairs to complete well pump installations. Our plumbing professionals can provide you a free quote on your pump service and conduct the installation process in a timely and efficient manner. We recommend you replace your submersible and jet pumps once every 20 years. Turn to Muskego Pump and Plumbing's Wisconsin plumbing experts whenever you need an affordable well tank or well pump replacement and installation service.
Muskego Pump and Plumbing is your one stop shop for sales and repair of these high-quality well pumps:
➤ Berkeley
➤ Aermotor
➤ Sta-Rite
➤ Goulds
➤ Meyers
➤ Red Jacket
➤ Grundfos
Supply fresh drinking water to your home using well pumps installed and maintained by Muskego Pump and Plumbing's professional plumbers and well pump installation experts.
Call the professionals at Muskego Pump and Plumbing for your new well pumps, jet well pumps, constant pressure well pumps, submersible well pumps and pressure well pumps.